DroneInsurance.com's first-of-its-kind drone insurance platform, offering 24/7 ground and usage-based flight coverage solutions for drones, sensors and essential flight equipment is now available to commercial drone operators in New Jersey
Following our launch in the United States* last month, our team has been working tirelessly toward making our insurance products available to commercial drone operators in all 50 states. Today, we're thrilled to announce that we're one step closer to that goal with our launch in New Jersey!
DroneInsurance.com is an automated platform offering dynamic policy solutions to address the unique risks, pain points and insurance needs of commercial drone operators. For a monthly amount per drone, businesses can protect their ground operations. Then, operators can purchase flight liability coverage on-demand, for as little as a day, or as long as a year, with a range of limits. Coverage options for essential flight equipment including sensors and ground stations are also available.
At last week's Interdrone conference in Las Vegas, we announced our collaboration with AirMap that will provide drone pilots seamless access to drone insurance within AirMap's pre-flight planning workflow. Additionally, we also unveiled the work we're doing with AeroVironment to offer commercial drone insurance solutions for the Quantix™ hybrid drone. As the number of commercial drones and commercial drone applications continue to soar across verticals, our team is pushing hard to make it easier for drone pilots to access drone insurance solutions by making our offerings seamlessly available within multiple markets and ecosystems.
To amplify this effort, we're thrilled to officially bring DroneInsurance.com to New Jersey in an effort to meet the continuously growing demand from the Garden State. DroneInsurance.com is designed to offer a smart and paperless drone insurance experience that better aligns with the core operational needs and on-demand nature of a commercial drone operator's workflow. Following our launch two months ago, dozens of New Jersey residents have registered with us at DroneInsurance.com, expressing interest in adding 24/7 ground coverage and on-demand flight coverage to their operations.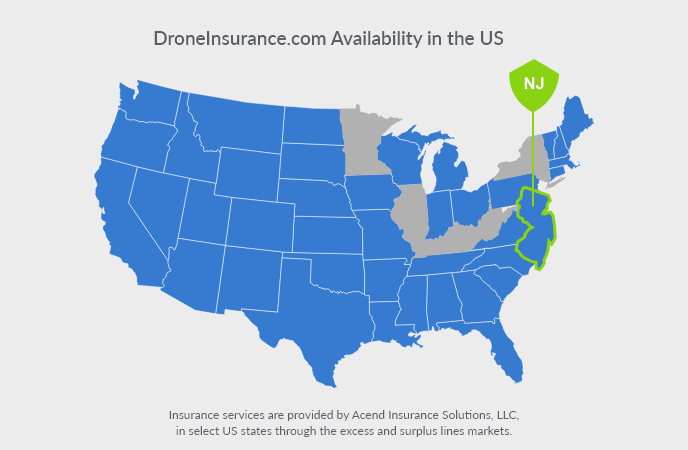 DroneInsurance.com coverage options overview:
24/7 Base Coverage

3rd-party Liability and property damage coverage for  ground-based operations

Premises liability coverage

Personal and Advertising Injury liability coverage

On-demand, episodic Flight Coverage with limits up to $25M

Optional physical damage protection

Optional sensor and ground equipment coverage

Support for FAA-approved night and BVLOS (Beyond Visual Line Of Sight) flights
To learn more about what sets DroneInsurance.com apart, check out our Blog pages.
Ready to get started? Get your quote from DroneInsurance.com today at DroneInsurance.com or drop us a line at info@droneinsurance.com if you need more information.
*DroneInsurance.com is available throughout the United States except in NY, KY, IL, WV and MN. Insurance services are provided by Acend Insurance Solutions, LLC ("AIS"), a licensed surplus lines producer in all 50 U.S. States.  AIS operates in California under license No. 0L70741. Additional licensing information is available at DroneInsurance.com.
About DroneInsurance.com
Cutting-edge technology demands cutting-edge coverage. Powered by REIN's insurtech platform, DroneInsurance.com replaces paperwork and complexity with data-driven automation and user control to offer insurance coverage solutions designed to address the unique risks, pain points and coverage needs of commercial drone operators. A wholly-owned subsidiary of REIN, Acend Insurance Solutions, LLC is a licensed surplus lines producer in all 50 U.S. States and provides insurance services. For more information, visit REIN.ai and DroneInsurance.com.
MEDIA KIT
About REIN
REIN is an insurtech company creating new, custom-made insurance technology products around the emerging risks in mobility, robotics and online ecosystems. In a time of evolving risks, changing customer behavior and unprecedented demand for speed and simplicity in insurance products, REIN uses data, machine learning, and modern tools to help companies bring new insurance products to market faster.  Founded in 2015, REIN has offices in Chapel Hill, NC, Maynard, MA and Halifax, NS.